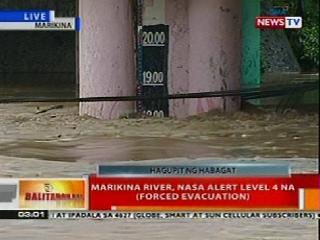 Almost three hours after the critical Alert Level 4 was raised in Marikina City, water level at the Marikina River continued to rise and has reached the 19-meter mark late Tuesday afternoon due to persistent monsoon rains worsened by Tropical Storm Maring.
According to the Marikina Public Information Office, the river's level went further up to 19 meters at about 5:34 p.m.
Three hours earlier, or shortly before 3 p.m., local authorities sounded the alarm for a forced evacuation at Alert Level 4.
Evacuees
Some 3,200 families or 17,000 residents were seeking refuge inside evacuation centers in the city as of posting time.
H. Bautista Elementary School - 637 Families / 3,066 Persons (3:30pm)
Filipinas Village Basketball Court - 159 Families / 821 Persons (4:00pm)
Concepcion Integrated School - 224 Families / 887 Persons (4:17PM)
Nangka Elementary School - 744 Families / 2,719 Persons (1:23pm)
Libis Bulelak Gym - 149 Families/755 Persons (11:40am)
Malanday Elementary School - 400 Families /4,200 Persons (2:30pm)
Sto Niño Elementary School - 28 Families/ 105 Persons (1:25pm)
Sampaguita Village, Malanday-176 Families/ 861 Persons (4:00pm)
Baranggay Multi Purpose Hall (Brgy. Dela Peña) - 24 Families/ 103 Persons (3:42PM)
Fairlane Gym - 102 Families (3:18pm)
Parang Gym - 307 Persons (3:30pm)
Marikina High School - 333Families/ 1,581Persons (5pm)
Nangka Covered Court - 1018 Persons (2:30pm)
Ondoy, Manggahan
At 19 meters at the Sto. Niño portion, the current level of the Marikina River is just three meters shy of that during Storm Ondoy in September 2009, when the level reached a record 23 meters above sea level.
Of the more or less 500 people killed by Ondoy, 68 were from Marikina, a city of 16 barangays.
Ondoy poured a record amount of rainfall over Metro Manila and other parts of Luzon, affecting 4.8 million people and leaving P11 billion worth of crops and infrastructure damaged in its wake.
A year ago, in early August, water level at the Marikina River peaked at 20.6 meters, way above the critical level, forcing local officials to sound the fifth alarm — the highest — as soon as the water level breached the 19-meter mark.
More than 4,000 families or 23,000 people were forced to leave their homes to seek higher grounds.
From the mountains of Rizal and into the Marikina River, the rainwater flows down further to the Manggahan Floodway and out to the Lagunda de Bay.
The Manggahan Floodway is an artificial waterway built in 1986 to prevent the Pasig River from overflowing by diverting water from the Marikina River toward the Laguna Lake.
However, the floodway's 260-meter width and 2,400-cubic-meters-per-second water capacity had since been dramatically reduced by encroachments from illegal settlers residing on the floodway's banks.
In comparison, the Marikina River is 100 meters wide, while the floodway's width had been reduced to just 30 meters, according to local authorities.
As for the depth, the floodway, located in adjacent Pasig City, has also become shallower over time with its water-carrying capacity having been reduced around two thirds.
-- KBK, GMA News